The X Position 'O' (XPO) Contemporary Dance Fiesta is regarded as a delicate, harmonic image rich in artistic value that reverberates beautifully between traditional and contemporary, ancient and realistic and has left a lasting impression in the hearts of audiences in Singapore and Hoi An.
With 11 editions over more than 20 years, the Festival has expanded by introducing more than 40 international art companies and 550 artists. This time, with Ho Chi Minh City as the final destination, XPO 2023 not only depicts the journey of bringing Vietnamese culture to the world, but also demonstrates the incredible influence symbolic that the Singapore International Contemporary Dance Festival has brought.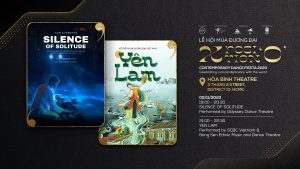 SCBC Vietnam as the organizer promises to open a performance art space filled with sound, light and refined dance movements with performances "Silence Of Solitude" and "Yen Lam" at X Position 'O' Contemporary Dance Festival.
AGENDA 
18h30 – 19h00
Welcome Guests
19h00 – 20h00
Performances "Silence Of Solitude" by ODT International Theatre
20h00 – 21h00
Networking
21h00 – 22h00
Performances "Yen Lam" by SCBC Vietnam & Bong-Sen Ethnic M

usic and Dance Theater

22h00 – 22h30
Artists Gathering
TICKET INFORMATIONS
                   X POSITION 'O' CONTEMPORARY DANCE FIESTA (XPO) 2023                          19:00 – 22:30 | 05.11.2023 | Hoa Binh Theater

OFFICIAL TICKETS LINK:

SVIP (zone Yên Lam): 2.100.000 VNĐ

VIP (zone Đoàn Viên): 1.100.000 VNĐ

GOLD (zone Thuyền Hoa): 800.000 VNĐ 

   20% Discount Early Bird from 05.10.2023 to 10.10.2023

HOTLINE:

0912946549 – 0912966549 (Mây Lang Thang)

0921467226 (Ms.Thiên Kim) – 0768137667 (Ms Phương Linh)